National Tennis Finals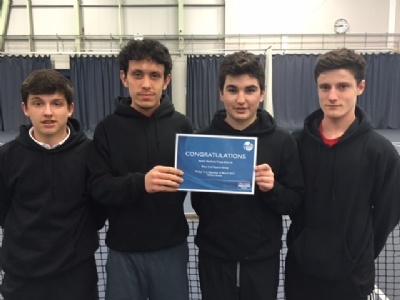 The senior tennis team achieve 3rd place in the UK National Tennis competition
Following a long, 3 day tournament in Bolton this weekend, the Senior Tennis team finished the competition in third place. The competition featured some of the best schools from England, Wales and Scotland.
The team consisted of Michael Cragg (year 13), Oliver White (year 12), Joe Patton (year 11) and Lewis Picker (year 11). The team did exceptionally well to get to the finals and defeated a number of top independent schools. They beat Stanwell School and King Edward VI Grammar School Chelmsford but unfortunately narrowly lost to Truro School when playing for a place in the final.
The boys were a credit to both the sport and the school, demonstrating not only high skill levels but a level of sportsmanship unrivalled by their opposition.