Year 9 County Football Champions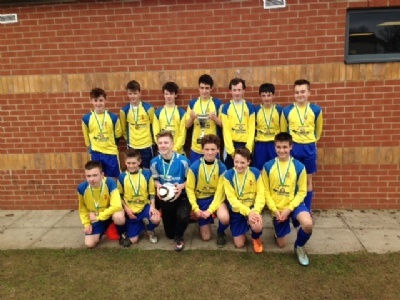 The Year 9 team secured the Lincolnshire County title with a solid victory over QEHS Gainsborough.
The team have been fantastic all season and played the game in their now accustomed style, showing both discipline and confidence in their performance. The game was exceptionally tight until a tactical switch saw Kieran Hollis added to the attacking line, to make it three upfront, in an attempt to impose our growing dominance on their defence. Within seconds Hollis changed the game and nearly scored himself and with the resulting corner the inspirational James 'scholsey' Scott drove the ball into the net. The defensive line, which has been superbly led by captain King-Deutch all season, held out and victory was secured.