Physical Education - Year 10 Support Evening
Please select the PowerPoint below.
How is the course assessed?
The course is assessed in 3 ways – Written exams, practical performance and coursework (NEA). Breakdown is as follows:
Paper 1 – 1 hour 15 mins – 30% - 78 marks
Paper 2 – 1 hour 15 mins – 30% - 78 marks
3 Sports – 10% each - 25 marks each
Coursework (NEA) – 10% - 25 marks
How many sports are you assessed in and which sports can do you?
You will be assessed in 3 sports. You are only able to do sports that are on the approved AQA exam list. Of those 3 sports at least one must be a team sport and at least one must be an individual sport.
Can you be assessed in sports that the school doesn't do?
Yes, you can be assessed in sport that the school doesn't run as long as it is on the approved list. You will be solely responsible for gathering your own evidence for an accurate grade to be submitted. Please refer to the AQA specification for detailed requirements of each sport.
How are the sports assessed?
The marks are split across skills in isolation (10 marks) and performance in competitive context (15 marks). You must be able to provide evidence of you playing the sport competitively.
Am I required to produce evidence of me performing the sport?
Yes. You are required to provide evidence of you playing the sport competitively and evidence of you performing a set list of skills as outlined by the exam board. This video evidence will be used to decide your mark.
What is the written coursework on?
The written coursework is a performance analysis assessment of your strengths and weaknesses in your main sport. This will be completed in school.
Specification at a glance
Component 1:

The human body and movement in physical activity and sport

Written Paper

30%

•1 hour 15 minutes written paper

•78 marks

•Combination of multiple choice, short answer and extended writing questions

•Applied anatomy and physiology, movement analysis, physical training and use of data

Component 2:

Socio-cultural influences and well-being in physical activity and sport

Written Paper

30%

•1 hour 15 minutes written paper

•78 marks

•Combination of multiple choice, short answer and extended writing questions

•Sports psychology, socio-cultural influences, health, fitness and well-being and use of data

Component 3:

Practical performance in physical activity and sport

NEA

40%

•100 marks

•Internal assessment, external moderation
Practical
Video Evidence - The Current Situation
Sport is starting to slowly return at grassroots level
Video evidence collection may not be possible for some sports at this time given the current situation – please do not panic about this
The following slides detail the requirements for submission of video evidence in "normal" circumstances
For the present, please gather video evidence as much as you can, but only when you can and if safe to do so.
Within the practical assessment context is key
The higher the level of situational demand, the higher the marks that can be awarded
Pupils playing at high levels of competition (e.g. County/academy level) must submit video evidence at this level in order to access the highest marks
When collecting video evidence please check the specification requirements
ucroll down on this document to find your sport
Video Evidence – The Specification
Part 1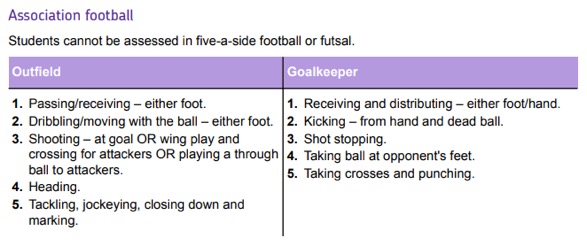 Part 2

Video Evidence – Skills Section
Football, rugby, handball, athletics and table tennis will be covered in GCSE PE lessons and/or Games lessons
Pupils will receive a practical skills booklet covering the above sports that contains all of the drills required for evidence of the skills section
Sports outside of this list must be completed in pupil's own time
Please check that videos submitted meet the specification requirements
Video Evidence – Full Context
The full context video must be one continuous video of the entire match/game in the relevant sport
Videos can be paused at half time
Videos can be stopped if the pupil is substituted (assuming they will not return to the match)
Some exceptions:
Long distance events where it is not possible to film all parts
E.g. road cycling, cross country
For these sports verified times should be submitted along with video footage of the start and finish of the race for the pupil
Cricket
Only film when pupil is batting
Fielding/bowling must be a continuous video (we recommend a T20 for this)
Video Evidence
Within the PE dept we have a video camera that can be borrowed by pupils to film their evidence
The camera should be 'booked' by pupils with their class teacher
The camera will be allocated on a first come first served basis
It is the responsibility of the pupil to ensure that they collect and return the video camera promptly
Video Evidence - Handing In
Skills Video
When handing in evidence the video for each sport should be edited to one video, with captions for each skill and progression
Free video editing software is available for laptops and mobiles
Full Context Video
Submit full match/game footage
Include a written commentary highlighting when skills are performed by the pupil:
Theoretical Content - Parent Support at Home
Pupils should be looking through notes from class regularly
Please test them on key terms – potential easy marks in the exam
Glossary for each unit is included in their class work booklet
Alternatively, keep them on their toes using the specification
Talk to me about… Gaseous exchange
Do they mention the terms in the 'additional information' section?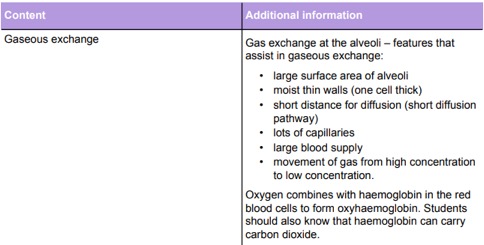 We look forward to another successful GCSE PE journey over the next two years If you have any question please do not hesitate to contact me in school.
Alternatively, you can contact your son's class teacher:
10A: Mr Burnett
10C: Mr Lindsay